College of Rehabilitation and Communication Sciences
See what others are saying about the CRCS and share your comments, too! Kudoboard!
Occupational Therapy Program: through Elks Rehab grant, purchases Saebo VR!
The Occupational Therapy program recently purchased a Saebo VR through a grant from Idaho Elks Rehab. It will be used in our Neurological Function in the Occupation Lab. The Saebo VR is a virtual reality rehabilitation system that allows clients to practice motor and cognitive skills to improve function within daily tasks. The system walks a client through a virtual world to complete everyday tasks including meal preparation, pet care, gardening, and volunteering. We appreciate their support of the Occupational Therapy program!
SAEBO System and students interacting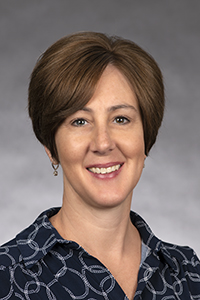 Jill Harris, PT, DPT
HARRIS EARNS DPT!
Jill Harris, Clinical Assistant Professor in the Physical Therapy Program, received her transitional DPT from Arcadia University in December 2019. She is just beginning to investigate research options but has an interest in looking at musculoskeletal injuries in informal caregivers. Informal caregivers are those who provide care to a family member or friend in a home environment. Jill would like to look at the incidence of musculoskeletal injuries and investigate ways to provide education and training as necessary to this ever-growing population. Congratulations, Jill!
LLOYD EARNS CLINICAL DOCTORATE IN OCCUPATIONAL THERAPY!
Associate Professor, Occupational Therapy Program, Kimberly Lloyd, received her Clinical Doctorate in Occupational Therapy from Rocky Mountain University of Health Professions in August 2019. The results of her time there will be a published continuing education article in OT Practice Magazine in March 2020. The continuing education article is titled:"Taking the Burden Out of Sleep in Dementia". Well done, Kimberly!
Kimberly Lloyd, OTD, MOTR/L
Physical and Occupational Therapy
Research Opportunities
208-282-3992
208-282-4645
650 Memorial Drive
Bldg 66, Room 202
Pocatello, ID
Mailing Address:
921 S 8th Ave Stop 8090
Pocatello, ID 83209-8090